Medical Marketing by the youngest Professor of Digital & Social Media Marketing,
trained in Washington DC (EIOM), Michalis Botas.
Without wasting time or money, we optimise Health Marketing focusing on immediate and measurable results, from the very first day.
We maximise your client list, emphasising on the most significant parts of a successful Digital Marketing campaign by adapting them to the Health Marketing of the new Digital Age.
Appearance in the first 3 spots of Google My Business
Stabilisation in the first 4 results in Google AdWords
Design and implementation of target group patients on Social Media
Authorship of Medical Articles based on Health Marketing – (SEO)
DMSS Marketing Agency,
specialised in Medical Marketing,
was rated as users' top choice in
Athens by Google.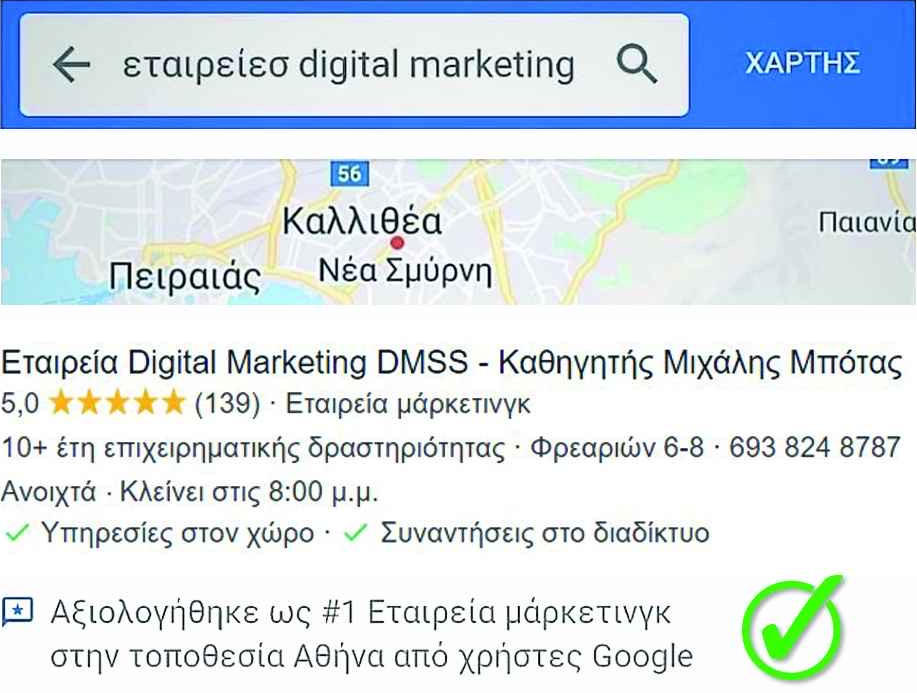 What is Medical Marketing;
Health Marketing is not an ordinary type of Marketing, it demands sensitivity and understanding. In this case, we are not merely addressing clients, but patients, people who need a Doctor who is going to treat them properly, who will inspire confidence in them.
Give your private medical practice the added value it needs against the competition by choosing the most specialised team in Health Marketing, which is committed to bringing you immediate results in terms of popularity and profit.
Professor of Digital Marketing Michalis Botas utilises medical microtargeting and remarketing not only to attract potential patients but also to create a brand name for the Doctor.
Michalis Botas was trained in the Local Digital Marketing department at the IT PARIS CENTRE (IPC-F), acquiring specialisation in Google my Business as well as Google reviews. It is obviously very important to choose the right professional, a Digital Marketing Specialist who is able to use the previously mentioned tools properly in Doctors' Marketing.
As you will read in his resume, Michalis Botas has attended specialised seminars in Doctors Marketing and in the Management of Private Medical Practice against the competition in Washington DC (E.I.O.M.).
The specialised team of DMSS has been active in Medical Marketing for more than a decade both in Greece and Europe, having by now become the top choice for every Medical Practitioner.
Ο Καθηγητής Digital Marketing Μιχάλης Μπότας στα Digital Marketing News: Το Ιατρικό Μάρκετινγκ απαραίτητο εργαλείο για κάθε ιατρό σήμερα.
Ο Καθηγητής Digital Marketing Μιχάλης Μπότας μιλάει στο Ιατρόραμα για το Ιατρικό Marketing και τις προεκτασεις του.